My full name is Mario Kienspergher. I was born on May 4th, 1972 in Feldkirch, the most western city of Austria (that is the country in the heart of Europe, not that one with the kangaroos !!) and have been living there for almost all the time since then.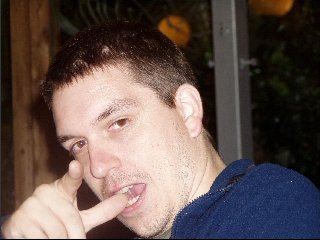 That's me in 2004

After primary and secondary school I attended the "HTL für Nachrichtentechnik und Elektronik" in Rankweil, a kind of college with special education in electronics and communication. In 1991 I became a Radio Amateur by passing the necessary tests and got my class-2-license (= without CW) with the callsign OE9MKV. One year later, in 1992 I passed my exams (in English and Digital-, Communications- and High-Frequency-Electronics) at the HTL, then I had to enter the Austrian army ("Bundesheer") for eight months until summer 1993.
Then I took some time off and went on holidays, and I worked a little bit here and there for half a year because I couldn't get a job that satisfied me.
In early 1994 I got a job at the Austrian "Post & Telekom" company, which was splitted into two seperate companies in 1998. So I'm working for the Telekom Austria AG now. I started with planning digital exchanges for the Austrian telecomminucations network, but in late 1995 our company decided to set up a computer-network all over Austria and I became one of the network-administrators, responsible for about 400 NT-Workstations and about 30 NT-Servers and UNIX-Hosts today.
My nickname has always been "kinzi". I got it at secondary school when everyone was addressed by a abbrevation of his or her surname. They first called me "Kiensi" but that version didn't look smart enough for me :-) , so I compressed it to "kinzi" (pronouce "kin" like in "kinetics" and "zi" like in "zebra").